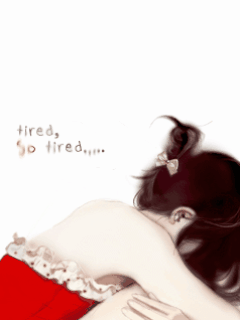 di pagi yang indah aku bangun lantas membaling bantal kepada aika...dgn erti kate lain wei bangun la..ye pagi ini kami kene bangun sendiri sebab asma tade..uww rindu asma.
then pegi kelas..as usual kelas micro di e2..aha rambling sikit sambil memeningkn pale otak bersama buku2 micro..then finish!
then saya pegi bilik lecturer..meeting eh dating eh eh eh..ape ni!haha anta proposal sudah..ye pergi bilik miss izwa check up proposal then g bilik che wan!haha he just came back from indonesia..n the best damn thing die beli souvenir tok ajk sri ayu..mcm yg die jnji kn la..hehe ..after tht we going to HEP amik qoutation..di sini terdpt kekeliruan yg memeningkan kami ajk sri ayu..heh tp berjaya di atasi dgn baik...thanks HEP..

then i had meeting with ketua jbtn pengajian umum...bersembang2 dan bersembang xsedar dah kol 1..rushing utk kelas akaun plak...
AKAUN ...huh what a horror..ak xperform kt kelas..penat mengantuk batuk membuatkan ak g tido n bersembang ngn quyah ....haha..then berlalu je 2 jam camtu je...
then it's about 3.30 ,...waiting kak dayah abis kelas...sampai kol 5.30 sbb nk kne g tempah hadiah kt kajang..then around the time tu ak wat homework..done everytink except accout n hpd..hehe...
5.30...pegi bilik lecturer..lepak kt bilik miss izwa sambil settlekan proposal..haha..kelaka time ni...tp kne dirahsiakan sbb nye.bak kate org xbaik mengaibka org..heee..
then tunggu kak dayah abis solat n miss punch card then we going to kajang..as usual super duper jammed...merayau n meraban at last ta jumpe pun yg menarikk.pulang ke sri ayu dgn tgn kosong..:)
then beli dinner ...8.30 meeting lg,,kt uma miss izwa..we talk about trip n festival sukan..plus majlis ceramah dan solat hajat..xlupe psl dinner...
now saya di atas katil menaip blog sambil bergelak ketawa bersama aika..finally aika dah tido bermimpikan kerang mungkin..last ly night everyone..
i enjoyed my day
p/s: walaupun penat tp saya byk belajar hari ini..thanks for who involved to teach me!big hug ;)